In dieser Jahreszeit genieße ich es immer sehr, am Wochenende beim Frühstück den Vögeln in meinem Garten zuzuschauen. Es gibt so viel zu sehen und die Vielfalt und Farbenpracht sind großartig. Aber auch die unscheinbar gekleideten Vögel sind so hübsch anzuschauen. Natürlich habe ich auch in diesem Jahr wieder die Futterstellen hergerichtet und der Betrieb ist wahnsinn :)
During this time of the year I really enjoy watching the birdies in my garden during my breakfast. There is so much to see and the variety and gorgeous colours are amazing. But I also like the birdies that are harder to see or have a plain dress. All of them are special, each one by itself. Of course I set up the feeders again this year and you can not image how much is going on there!
Zwar haben wir derzeit keinen Schnee, aber ich wollte gern eine Schneeszene machen. Diese muss ja nicht immer in weiß und blau gehalten sein. Ich wollte trotz kalter Eiskristalle eine wohlige und schöne Atmosphäre kreieren.
We currently do not have snow here, but I wanted to create a snow scene. It does not always need to be white and blue, I think. I wanted to bring a warm cozy atmosphere into being by still having ice crystals be one of the main elements.
Zunächst habe ich den unteren Teil gewischt. Als nächstes habe ich den Zweig und den Vogel gestempelt. Dabei handelt es sich um Lagenstempel, die man nach und nach übereinander stempelt. Das fertige Motiv habe ich dann aber noch mit Markern nachgearbeitet um Strukturen rauszuarbeiten oder schöne Farbübergänge zu schaffen. dabei habe ich auch die zu kalten Farben noch mit warmen Untergründen "angewärmt".
Als nächstes habe ich mich an das Wischen des oberen Hintergrundes gemacht. Die Eiskristalle sind embosst. Auf dem oberen Bereich habe ich mir zu Nutzen gemacht, dass ich direkt nach Gestaltung des Hintergrundes gearbeitet habe, so dass nicht nur der Stempelabdruck das Embossingpulver angeklebt hat, sondern eine schöne weiße pulverige Schicht an den Rändern entstand. Die Schneeakzente auf dem Zweig und den Rändern habe ich mit einem Schneepen gemacht.
First I sponged the bottom background and stamped the branch and the birdie afterwards. These stamps are layer stamps, where you stamp several stamps on top of each other. I worked out structures and filling with markers. I took special attention to warm up cold parts with warmer colours and to create smooth colour fadings. I then sponged the upper part of the background and while the top was still a bit wet I embossed the ice crystals. This gave the nice effect of tiny snow powder shades on the top part, where the ink was still a bit moist. The snow on the branch and the edges are made with snow structure paste.
Für diejenigen unter Euch, die den blog nicht in der Webversion lesen, ich habe ein Blog-Candy laufen. Vielleicht möchtet Ihr mitmachen? Klickt auf das Krokodil in der Seitenleiste oder schaut Euch den Post vom 7. Dezember an.
For those of you who do not see the blog on the web browser version: I have a blog candy going. Maybe you want to participate? Just click on the crocodile on the side bar or look at the post form December 7.
Materialliste
Supplies
Stempel /

stamps

: HeinDesign L-769286; Winnie & Walter Winter Wonderland; Stampin Up Weihnachtswunsch
Stempelkissen /

stamp pads

: Versamark; StazOn timber brown; Adirondack butterscotch, latte, lettuce, caramel, cranberry, espresso
Embossingpulver /

embossing powder

: Stampendous! detail white
Stanze /

die

: Sizzix Tim Holtz 657467 Festive Scenery
Marker: Signo white; Stampin Up barely banana, bravo burgundy, creamy caramel, real red, early espresso, more mustard
Reddy Schneepaste /

snow paste
An den folgenden Challenges möchte ich mit meiner Karte teilnehmen.
I would like to participate into the following challenges with my card.
Craft Stamper
Take a technique - Sharing the Season
(in my case stamp layering)
Crafty Catz
Challenge #304 - Let it snow
Simon Says Stamp - Wednesday Challenge
Simon says: Let it snow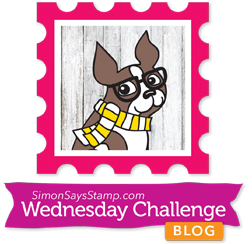 Crafty Calendar
December Challenge - Let it snow