Eine der Dinge, die mich im Frühling immer sehr beeindrucken sind die blühenden Japanischen Kirschbäume. Geht es Euch auch so? Ich habe diese auch im Garten stehen und erfreue mich immer sehr daran. Wenn dann irgendwann die Blütenblätter rieseln sieht es nochmal schön aus mit dem Blütenregen.
One of the things that impress me very much in spring are the blooming cherry blossom trees. Do you feel the same way? I have some of them in my garden as well and really love to see them. When the flower leaves start to fall off, it is so pretty again with the pink flower shower.
Für die Karte habe ich einen Stempel genutzt der eigentlich lediglich einen Ast oder vielleicht auch einen der schlichten Baum darstellt mit ein paar wenigen Pünktchen dran. Ich habe dann weitere drum herum gesetzt und auch mit Farben Schattierungen erzeugt. Der Hintergrund ist mit einer Schablone aus abgerissenen Papierstücken entstanden.
I used a stamp for the card which actually is rather a branch than a tree and only has very few dots. I added more dots and also worked with colours on the trees to give them some shading and depth. The background was created with masking pieces of paper scraps.
Ich habe die folgenden Materialien verwendet.
Supplies:
Stempel /

stamps

: Heindesign (Bäume / trees), Art Impressions (Blätter/leaves, Gras/grass), Hero Arts (Spruch / sentiment) CL130 Frames and messages
Stempelkissen, Marker /

stamp pads, marker

: Stampin Up mellow moss, close to cocoa, bordering blue, old olive, apricot appeal, barely banana, pumpkin pie, early espresso, baked brown sugar, soft suede
Signo white marker
An den folgenden Challenges möchte ich mit meiner Karte teilnehmen.
I would like to participate into the following challenges with my card.
Simon says stamp Monday Challenge
Don´t abandon the coral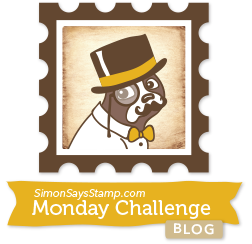 QKR Stampede
Challenge #138 - Nature
Great impressions
May Challenge - Celebrate spring
Kreativ-Einkauf
Challenge #26 April/Mai - Frühling im Garten / Spring in the garden