Ich wollte Spray-Technik mit Struktur und monochomatisch miteinander in Einklang bringen. Hier ist mein Werk für Euch.
I wanted to harmonize mist technique with texture and monochromatic. Here is my little piece of art for you.
Zunächst habe ich bei dieser Karte mit Brushos die Hintergrundsprenkel gemacht.
Dazu wird ein bisschen Brusho Pulver in den gewünschten Farben auf das Papier gegeben und dann mit Wasser besprüht. Auf den getrockneten Hintergrund habe ich dann mit Strukturpaste und einer Schablone die Punktstruktur aufgetragen. Wieder muss das ganze trocknen, die Zeit habe ich genutzt um die Blumen anzufertigen. Das Motiv habe ich zunächst mit wasserbasierten Markern gestempelt und dann mit Copic koloriert und anschließend die Blumen ausgeschnitten. Die Kollage habe ich dann mit unterschiedlich dicken Abstandspads zusammen geklebt um einen besonderen dimensionalen Effekt in der Tiefe zu erzeugen. Die Ränder der Blütenblätter habe ich ein wenig rund nach oben gezogen.
First I created the speckled background with bushos. You pour a tiny little amount of the crystals on your card stock and then mist it with water.
I then applied the structure with texture paste and a mask on the dried card stock. While this can dry once more, I took care of the flowers. I first stamped the flowers with water based markers, coloured them with Copics and cut them out. I arranged the collage with distance pads of different thickness to give the card a special dimensional look

. I rounded the leaves of the flowers upwards to make them stand out a bit.
Materialliste
Supplies
Schablone /

Stencil

: Dutch Doobadoo Wavy Stripes 470.715.037
Stempel /

stamp

: Magenta 40183K
Marker: Stampin Up ruby red, real red
Brusho: ost. red, vermilion
Stanze /

die

: Memory box 98584 happy script
Copics R00, R20, R22, R35, R37, R39
Ich würde gern mit meiner Karte an den folgenden Challenges teilnehmen.
I would like to participate into the following challenges with my card.
Challenge Up Your Life
Challenge #17 - monochrome
Craft Stamper
June Challenge - Take a technique: Texture
Simon Monday Challenge
Simon Says stamp and mist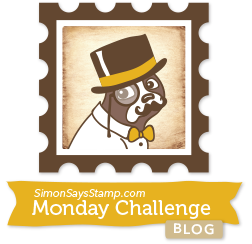 Deep Ocean Challenge
Challenge #106 - monochrome
Tuesday Throwdown
Challenge #250 - Stenciling
{PIN}spirational Challenges
Challenge #143 - Everything is better in pink