Halli, hallo! Na, seid Ihr noch immer in Partystimmung zum neuen Jahr? Zumindest scheint es dieses Monster hier zu sein.
Hi everyone, are you still in party mood about the new year? I guess, this cute dude here is

.

Don´t you think?
Ich habe dieses süßen Fratz von meiner lieben Freundin Jessika zu Weihnachten bekommen (DANKE!). Ich mag die Stempel von der Stempelbar sehr gern. Ihr habt vielleicht die Karte von gestern gesehen. Das süße Schweinchen ist auch eine Stempelbarkreation... oder sollte ich besser Stempelbarkreatur sagen? :)
I actually got this cutie from my dear friend Jessika for Christmas (THANK YOU!). I really like those stamps from the Stempelbar. You might have seen the card from yesterday with the piggy. That was also one of their creations .. or shall I say creatures?
Ich habe das Monsterchen mit Memento gestempelt und mit Copics koloriert. Dann habe ich mich auf die verzweifelte Suche nach passendem gemusterten Papier gemacht. Es sollte gepunktet und gestreift sein wegen der Family and Friends Challenge. Aber ich konnte nichts, aber auch gar nichts finden, was auch nur annähernd meinen Vorstellungen nah kam. Klar, man hat Berge über Berge an Designpapier und Papierresten, aber wenn man etwas Bestimmtes sucht, dann ist genau DAS nicht dabei. Also, was blieb mir? Ich habe mir mein Hintergrundpapier selber gemalt mit Copics.
I stamped the monster with Memento and coloured it with Copics. I then was desperately looking for some matching design paper for the background and it was supposed to be with dots and with stripes, because of the family and Friends Challenge theme. I could not find anything that would have suited my fantasy. ... Sure, we have loads of design paper and paper scraps, but if you need something particular, we can not find it. So I decided that the best fitting design paper would be a self drawn one. So I made the dotted and the striped background myself with Copics.
Materialliste
Supplies
Stempel /

stamps

: Stempelbar SB-UM-0726-GG; Happy Little Stampers Fun Birthday Sentiments
Stempelkissen /

stamp pad

: Memento tuxedo black
Stanzen /

dies

: DIE-namics MFT-347 Pierced Circle STAX (LRG); XCut XCU 503408 Scalloped Circle
Signo Marker white
Copics RV 63, V06, V09, YR00, YR02, YR04, Y08, Y38, B00, BG15, BG32, BG49
An den folgenden Challenges möchte ich mit meiner Karte teilnehmen.
I would like to join the following challenges with my card.
Simon Says Stamp Wednesday Challenge
Simon Says: Party!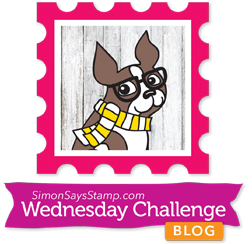 Family and Friends
Challenge #48 - Punkte und Streifen
Simon Says Stamp Monday Challenge
Challenge - Something New
(in my case the new stamp I got as Christmas present from my friend Jessi)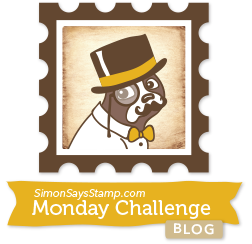 Crafty Calendar
Something new
(in my case the new stamp I got as Christmas present from my friend Jessi)