Heute zeige ich Euch zunächst einen Ausschnitt meiner Karte, das Gesamtwerk könnt Ihr weiter unten sehen. Da eine Challenge dieser Karte für einen CAS Blog ist, ist die Karte sehr schlicht gehalten.
Today I have a zoom from my card as a first impression. You find a picture of the whole card below. Since one of the challenges is from a CAS blog, the card is kept very clean.
Den Rasen habe ich mit einem sehr groben Schwamm getupft. Dafür habe ich nach Urzeiten mal wieder meine Color box Chalk Stempelkissen rausgekramt, da sie den Werken so einen schönen weichen kreidigen Ausdruck verleihen. Ich fand das für das heutige Motiv besonders passend und es hat Spaß gemacht, mal wieder damit zu arbeiten. Oft verwendet man ja doch die gleichen Dinge, einerseits weil es praktisch ist, da sie grad rumliegen und greifbar sind, andererseits, weil man sich so daran gewöhnt hat und damit auskennt.
I created the lawn by using a rough sponge and Color box chalk ink pads. I needed to get them out of my drawers, but was so excited to use them again, after a long time, since I thought that the soft chalk like look is perfect for my motive. It was really fun to work with them again. we often tend to get used to taking our favorite things, because first of all they are lying around and are therefor quick to find and also we got so used to them and know how to work with them and what to expect.
Für meine Karte habe ich die folgenden Materialien verwendet:
Supplies:
Stempelkissen /

stamp pads

: Color box chalk Rose Coral, Pink Pastel, Lime Pastel, Creamy Brown
Marker: Stampin Up baked brown sugar, certainly celery; Signo white
Stempel /

stamps

: Stampin Up Branch Out, Papermania PMA 9073000 Sentiments
Auch heute habe ich an einer neuen Challenge teilgenommen. Sie kümmert sich darum, die alten Stampin Up sets wieder aufleben zu lassen. Das finde ich ganz toll!
Today again I participated into a very new challenge, which has the goal to breath life into our old Stampin Up sets again. That is a great idea, I think.
An den folgenden Challenges möchte ich mit meiner Karte teilnehmen.
I would like to participate into the following challenges with my card.
Simon says stamp Monday challenge
Challenge Pastels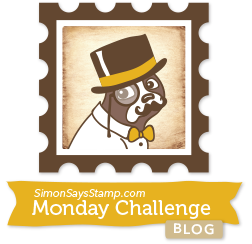 The pink elephant
TPE292 - Anything goes
Casology
Week 140 - Spring
Alt trifft neu
Challenge #2 (Stampin Up) - Frühlingsgefühle