Vor ein paar Tagen habe ich eine Email von CAS Colours & Sketches bekommen. Das Team hat mich für den Monat Februar als Gastdesignerin eingeladen. Wow, was für eine Ehre! Ich freue mich riesig. Viermal darf ich Euch daher in diesem Monat mit einer Karte von mir zur jeweils aktuellen Challenge inspirieren. Wie Ihr vielleicht wißt, wechseln sich Farb- und Sketch-Challenges ab. Als erstes starten wir mit einer Farbchallenge. Sind das nicht traumhaft schöne Farben? Und denkt dran, in dieser Challenge geht es darum Karten im CAS Stil, also clean and simple (einfach und schlicht) zu machen. Alle Regeln könnt Ihr auch auf dem CAS Colours & Sketches Blog nachlesen.
A few days ago I received an email from CAS Colours & Sketches. The team invited me to be their guest designer for the month of February. Wow, what an honour! I am sooo proud and happy about it. This means, I am able to inspire you four times this month with a card of mine for the new challenge. As you might know, colours and sketch challenges alternate and we start with a colour challenge. Aren´t these colours wonderful? Please remember to keep your card in the CAS style, meaning clean and simple. You can read more on the details of the rules on the CAS Colours & Sketches blog.
So schaut das Farbschema der heute startenden Challenge #159 aus.
This is how the colour scheme of challenge #159, which starts today, looks like.
Kommen wir nun aber mal zu meiner Karte für diese Challenge. Es handelt sich um die Paper Piecing Technik, die ich angewendet habe. Dafür habe ich zunächst die Blume auf verschiedenem Designpapier gestempelt und ausgeschnitten. Eine der Blumen habe ich in die kleinen Einzelteile zerschnitten und unregelmäßig auf die anderen Blüten geklebt. Außerdem habe ich noch das Mittelteil der Blüten auf einen orange farbenen Karton gestempelt, ausgeschnitten und ebenfalls auf die Blümchen geklebt. Für den Hintergrund habe ich die Kreise mit wasser-basiertem Stempelkissen gestempelt und ein paar davon mit Copics koloriert.
But let´s get into how I made my card. The basic principle is actually the paper piecing tecnique. For that I first stamped the flower on different design papers and fuzzy cut the flowers. I then cut one of them apart in pieces and glued the pieces on to the other flowers. I also stamped the middle piece of the flower three times on orange card stock, fuzzy cut it and glued those on to the middle of the flowers. For the background I first stamped the circles with a water-based stamp pad and coloured some of the circles with Copics.
Materialliste
Supplies
Stempel / stamps: Create A Smile Magic Flowers; Winnie&Walter Scenery: Big Bang Confetti
Stempelkissen / stamp pad: Stampin Up pumpkin pie, rose red
Copics YR04, RV09, RV19, RV32
An den folgenden Challenges möchte ich mit meiner Karte teilnehmen.
I would like to participate into the following challenges with my card.
Clean and Simple on Sunday
Challenge #75 - Paper Piecing
In{k}spire_me Challenge
Challenge #235 - Valentinstags-Special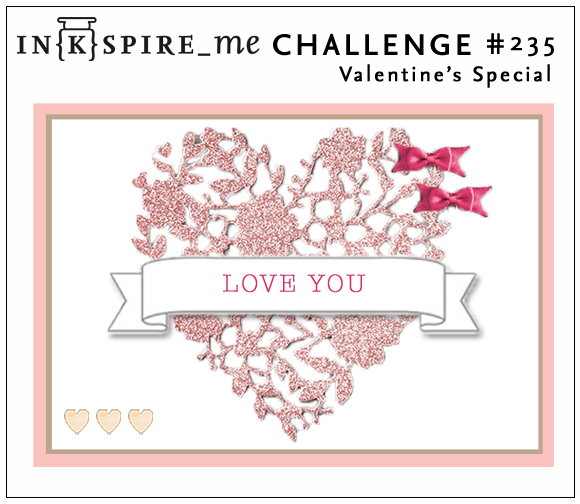 Time Out Challenges
Challenge #49 - Love is the flower you´ve got to let grow
Simon Work it Wednesday
January 2016 - New
(New stamp set from Create a Smile)