Für meine Karte von heute wurde ich hauptsächlich von zwei Challenges inspiriert. Das ist zum einen das Bild der Pinterest Inspired Challenge mit den Farben und dem Muster und zum anderen die CAS(E) this Sketch challenge.
I was inpsired mainly by two challenges for my card today. One is the photo of the Pinterest Inspired challenge with the colours and the pattern and the other one being the CAS(E) this sketch challenge.
Heute startet unsere neue Challenge auf dem Addicted to Stamps and More Blog für Euch. Das Thema lautet Alles geht, na, da seid Ihr doch dabei, oder?
Today starts our new challenge on the Addicted to Stamps and More Blog for you. The theme is Anything goes. That is an easy one to join for you, isn´t it?
Prize is a $15 gift certificate
Happy Little Stampers was created in 2015 by Kylie (owner of ATSM and ATCAS). Kylie wanted to bring out a line of stamps that were useful for every day crafters. From cute to whimsical images, from everyday to funky sentiments there is something for everyone!
Für die Karte habe ich mit Acrylfarben und einer Schablone gearbeitet. Als ich die Schablone entfernen wollte, löste sich ein wenig von der Oberfläche des durchgeweichten Papiers. Erst dachte ich "so ein Mist", doch als ich mir das Ergebnis dann angeschaut habe, fand ich den Effekt super. Ihr wißt ja, nicht gleich verzweifeln, wenn etwas mal anders ausschaut als erwartet, sondern gucken, was sich dadurch für neue Möglichkeiten ergeben. Seid flexibel in Eurer Vorstellung! Ich finde, dass die weißen Bereiche das ganze super auflockern und interessant machen. Und so paßt meine Karte dann auch noch zu den Challenges von Simon Says Stamp Monday Challenge zum Thema Upcycling und zur Happy Little Stampers Mixed Media Challenge zum Thema Farbe.
I worked with acrylic paints and a mask for my card. When I wanted to remove the mask, some of the upper layer of the water soaked paper came off. First thought was of course "ups", but when I then looked at the result I really liked what I saw. The effect was nice and made everything look much loosened up and perfectly rounded up. So remember, anytime when something goes a different way than what you had planned, do not throw it out or give up. Let the new idea inspire you and see where it takes you. Be open for changes! Be flexible! So my card now also fits to the challenge of Simon says Stamp Monday Challenge with the theme Upcycling and to the Happy Little Stampers Mixed Media Challenge with the theme "paint".
Materialliste
Supplies
Schablone /

mask

: The Crafters Workshop TCW 334s Mini Window Screen
Stanze /

die

: Sizzix 660215 Thinlitz Tim Holtz Handwritten Celebrate
Acrylfarbe /

acrylic paint

: Adirondack denim, lettuce, cloudy blue, sunshine yellow; Paper Artsy Fresco Finish south pacific, lime light
An den folgenden Challenges möchte ich mit meiner Karte teilnehmen.
I would like to participate intot the following challenges with my card.
Pinterest Inspired Challenge
February Challenge
CAS(E) this Sketch
Sketch #159
Simon Says Stamp Monday Challenge
Challenge Recycle/Upcycle Style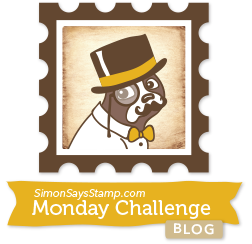 Happy Little Stampers
February Mixed Media Challenge - Paint