Eine liebe Karte mit Freundschaftsbekundung. - Heute bin ich mal nicht so formell und schreibe nicht sämtliche Details für die Materialliste auf. Stempelset, Stanzen und Papier sind von Stampin Up.
A kind card for a friendship. - Today I will not be too detailed with my list of materials. Stamp set, punches and paper are from Stampin Up.
Zusätzlich zu dem gemusterten Papier habe ich bei dieser Karte die Herzen mit einer Struktur versehen. An den beiden Bildern seht Ihr die unterschiedlichen Arten. Rechts habe ich den Stempel mit Farbe eingefärbt und leicht mit Wasser besprüht, vor dem Stempeln, so dass eine Struktur entsteht. Links ist auf diese Struktur noch ein weiterer Musterstempel in einer anderen Farbe gesetzt worden.
In addition to the structured paper, I put some pattern on the hearts with stamping techniques. You can see two options on the pictures below. The right heart was made by applying ink on a stamp and then add a little bit of water before stamping to give it a nice texture. On the left one I stamped a pattern with a different colour
on top of that

.
Ich würde gern bei den folgenden Challenges mit meiner Karte teilnehmen.
I would like to partivipate into the following challenges with my card.
Simon says stamp Wednesday Challenge
Simon says Friends or Superhero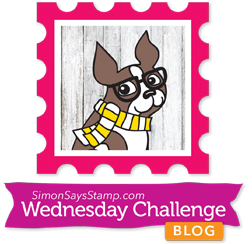 Crafty Catz
Challenge #283 - CAS