Heute habe ich eine sehr aufwendige Karte für Euch gemacht. Noch nie habe ich so viele Challenges miteinander verbunden. Es war eine wahre Herausforderung, aber das kam so: Als ich durch die Blogs schaute, für die ich Karten machen wollte, ist in meinem Kopf eine Idee entstanden, die sich von Blog zu Blog mehr formte und es passten so viele Dinge gut zusammen, so dass ich mich versichert habe, dass es auch ok ist, den Beitrag bei mehreren Challenges einzustellen und dann losgelegt habe. Hier ist meine Karte für Euch. Sie ist eine mixed Media Karte geworden.
Today I have made quite a laborsome card for you. Never did I combine as many challenges into one card as today. It was a REAL challenge for me, but this came as follows: When I flipped through the blogs for which I wanted to make a card, an idea came to my mind and the more blogs I went to, to look for the themes of challenges, the more it fit together. I made sure, that the blogs allowed the participation into several challenges and went to my art (chaos :) ) room. Here is my card for you. It actually is a mixed media piece.
Heute möchte ich Euch mal für ein paar Elemente meiner Karte die Arbeitsschritte beschreiben. Zunächst mal zum Hintergrund. Hier habe ich einen grauen Karton mit Versamark betupft und dann mehrere Schichten schwarzes UTEE (ultra thick embossing enamel) nacheinander aufgetragen, erhitzt und geschmolzen. In die letzte noch warme Schicht habe ich dann den Holzmusterstempel gedrückt, den ich vorher noch mit Stempelkissenfarbe eingefärbt hatte. So kann man die Struktur des Stempels in 3D festhalten. Diese Technik hatte ich HIER (KLICK) für Euch ausführlich beschrieben. Um dem Hintergrund den angeschmuddelten Touch zu geben und die Holzstruktur noch mehr herauszuarbeiten, habe ich alles mit Gesso-Primer mit einem harten Pinsel bestrichen und danach noch mit einem Tuch abgerubbelt.
Today I would like to explain to you, how I made some of the key elements of my card. Let me first take the background. I dabbed Versamark on a grey cardstock and applied several layers of UTEE (ultra thick embossing enamel) in black and heated it each time to melt it. When the last layer was still hot, I pressed the wood stamp into it, which I had treated with a stamp pad before. This way you can capture the structure of your stamp in 3D on your element. I have described the technique in more detail HERE (CLICK). To get the nice shabby look and to see the wood pattern even better, I put gesso on the background with a hard brush and last but not least rubbed the whole piece with a cloth at the end.
Ich habe die Schnörkel auf Transparentpapier mit Versamark gestempelt und mit Glitter embosst. Um die Strukturen besser in Erscheinung treten zu lassen habe ich dann alles von hinten mit einem Kreidestift nachgezeichnet und zum Schluß noch ausgeschnitten. Das Herz habe ich erst ausgestanzt, dann die Schrift mit Versamark gestempelt, in weiß embosst und anschließend die Prägung gemacht. Zur Abrundung der Farbe und damit es nicht zu hart wirkt, habe ich Gesso mit dem Finger drüber gestrichen.
I stamped the flourishes on transparent paper with Versamark and embossed it with transparent glitter. To make it visible better, I then painted white chalk marker on the back of the paper and cut out the piece. The heart is first punched out, then I stamped the sentiment with Versamark and embossed it in white. I then embossed the pattern and gave the whole piece a smoother look by dabbing Gesso onto it with my finger.
Ich hoffe mein etwas ausfhrlicherer Post von heute hat Euch gefallen.
I hope you enjoyed my more detailed post from today.
Die folgenden Materialien habe ich verwendet.
Supplies:
Stempelkissen /

stamp pads

: Stampin Up craft whisper white; Versamark; Archival Brillance lightning black
Marker: Stampin Up
Stempel /

stamps

: Stampin UpHardwood, Heart & Home, Finest Flourishes; Hero Arts LL137 Lace
Stanzen /

dies

:
Cuttlebug 37-1648 Textile Hearts
Embossing Pulver /

embossing powder

: Stampendous! detail white; Stempel-Galerie hologramm transparent
Stampin Up white Chalk marker
UTEE black; Gesso primer
An den folgenden Challenges möchte ich mit meiner Karte teilnehmen.
I would like to participate into the following challenges with my card.
Everybody Art Challenge
Challenge 320 - Perlen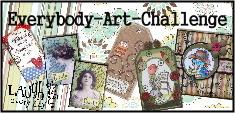 ColourQ
Challenge #287
My spot colour: pink
Tuesday Throwdown
Challenge #240 - All clear
Auf meiner Karte habe ich die Schnörkel auf Transparentpapier gestempelt.
In my case: Transparent paper on which I stamped the flourishes
Addicted to stamps
Challenge #140 - Photo Inspiration
Ich habe die weiß gestrichenen Möbel, das Zuhause und die Farben als Inspiration genommen
I took the white painted wood and the home plus the colours as inspiration
In{K}spire me
Challenge #194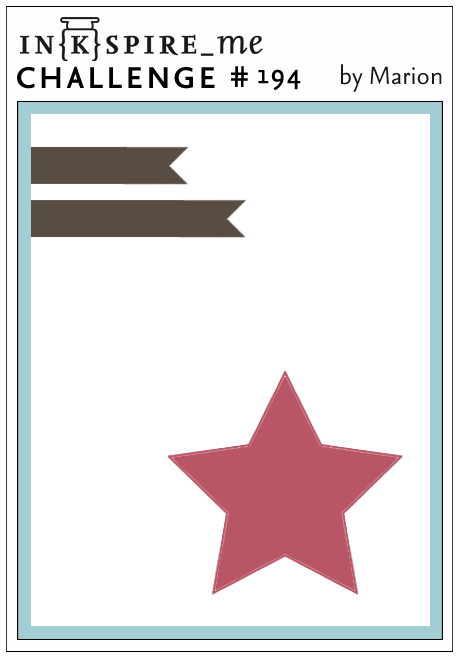 Retro Rubber Challenge Blog
rrbc#12 - Brads
Basteltraum
#28 Challenge Rezept
Für meine Karte: Stanzteil, rosa, Glitzer, Spitze
In my case: die cut, pink, glitter, lace
Simon says stamp Wednesday Challenge
Make your own background